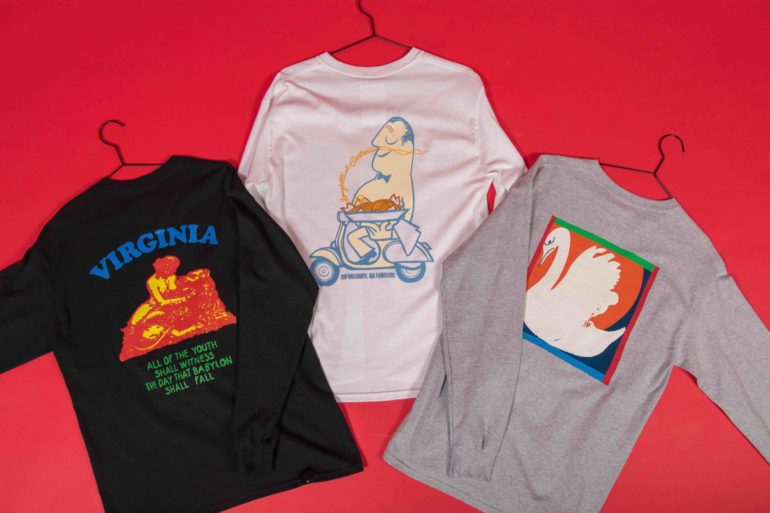 On a global scale, Lyon has usually been defined as a place for gastronomy and high-quality food, but latterly the French town has proven itself it could also come into play in designing apparel. Mingling food and garments, the underdog Reception Clothing invites us to its table with an auspicious menu:
A tribute to international cuisine
Humbly, the French label points the emotions of visiting restaurants out. If food is obviously the only way to fill your stomach, it also creates mementos of specific moments that remain in our brain for a lifetime. From Tokyo to Buenos Aires, through Athens and Rome, Reception Clothing pays tribute to what restaurants all over the world have to offer in terms of feelings and thoughts. By honouring international cuisine, the young brand remembers culture and gives back to food the place it really deserves in our society, at a time when it has become quite overlooked.  
Socializing is the common thread
Besides recalling deep memories, Reception brand brings to light the encounters and atmosphere of those past moments. With the strong willing of sending back that positive energy you captured along the way, the inner core takes you on a journey through time. And if food has the ability to bring people together and to make them spend a special moment, their philosophy is to insert the same vibe in the clothes they make. In this way, creating garments is genuinely connected to your dearest reminiscence at the restaurant. Regarding the collection itself, it encompasses customized patterns and graphics essentially applied on tees – short and long sleeves, depending on your daily mood. Each piece has a true identity, tones are simple, easy-to-wear but sophisticated and the whole line is likely to be combined with any bottom. 
Reception Clothing is an invitation to a culinary travel. And you are registered on the guest list. Yours sincerely. Centreville.
Article written by Sidney Vertongen.