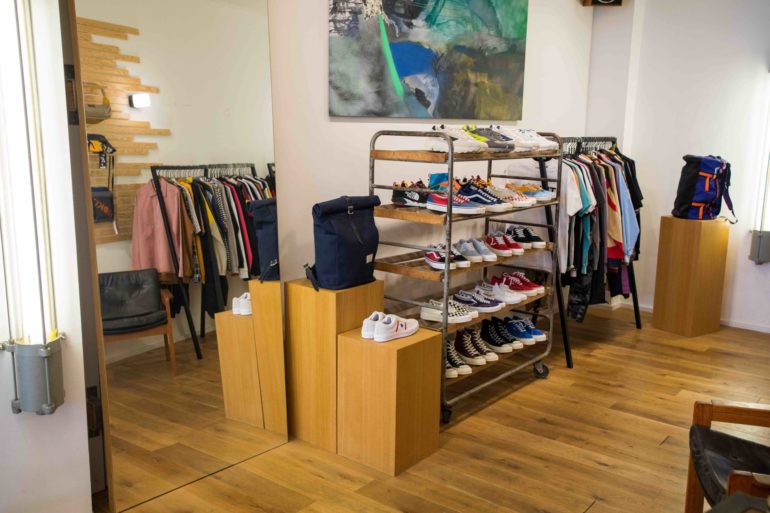 Forget about those « once upon a time » stories and fairy tales you've all heard of. This time, we would like to share our most epic journey : How it all started ! All at once, there has been no better chance to thank you for being a part of our project. The family is united and keeps growing inside Centreville Clothing Store.
Genesis of a newborn
2014 marks the start of the boutique. Located in the heart of the fancy Dansaert district in Brussels, Centreville store enlightens the menswear landscape in the Belgian capital. The concept emerges from a deep passion for clothing from two natives – Nicolas & Jérémy -, whose will was to broaden the offer in their beloved city with finesse and distinctness. From the outset, both founders put faith into action by providing tops, bottoms, shoes and accessories to help you create your own quality-driven outfit. Ever since,  the Brussels store relentlessly looks for authentic, eminent and niche labels reckoning its city deserves a true spot for clothing enthusiasts & connoisseurs. 
Trailblazer since the first moves
Centreville Clothing store deems its portfolio to be casual but yet classy in all circumstances. At the crossroads of various styles and trends, the menswear expert is a unique hybrid form of shop made to meet contemporary expectations. Starting with classic brands such as Universal Works, Merz B Schwanen, Norse Projects, Comme des Garçons Shirt, Levi's Made and Crafted, the instore shelves also gave room to urban labels selecting Champion and Fila's revivals, Danish outsider Han Kjobenhavn or even the inescapable Converse and Vans. Over the years, the community significantly got bigger and the market segments were brought to new perspectives. Accordingly, the streetwear bubble has popped up to reframe the industry giving birth to a new philosophy of designing and buying clothes. Through the process, iconic brands like The North Face or Stone Island made a sensational entrance within the store. On another note, a handful of subtle and skilful designers – Among them, Drôle de Monsieur, Arte Antwerp or Aimé Leon Dore – have provided new additions to their fine selection. 
Despite four years of existence, Centreville Clothing store remains relevant to its principles without losing sight of the original aims. By merging several universes together, bringing unknown labels to the fore and introducing the public to new aspects of menswear, the two Belgians have managed to create their very own identity. And what was drawn to be a local project in Brussels to a much larger scale. Indeed, they drive forward their devotion for quality-clothing in order to leave their legacy behind for future generations.
Article written by Sidney Vertongen.