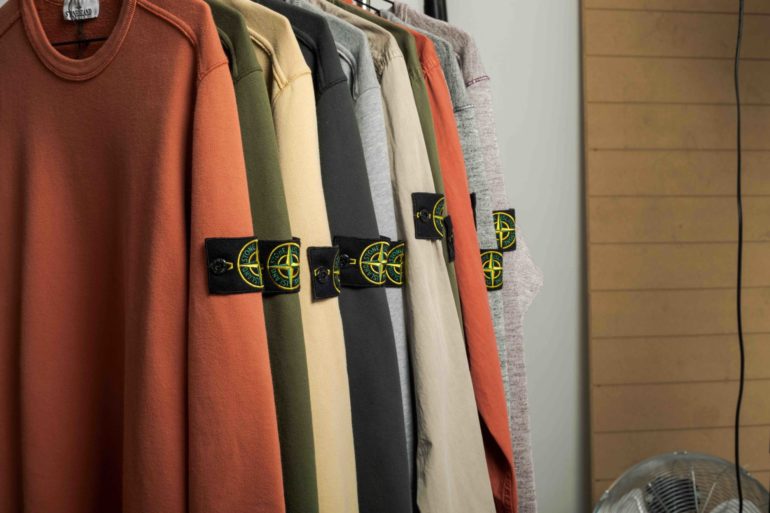 For decades now, we have all witnessed what Italian designers have achieved in textile manufacturing. But as far as Stone Island is concerned, the definition of designing clothes moves towards new insights and outlooks. Declaring itself to be non-fashion and hardly classifiable, the Italian label rooted in Ravarino finds its way between different aspects and techniques– from military gear to alligator patterns, through thermoresponsive polymers. Unlike most brands, Stone Island – lovingly called « Stoney » – has not been depending on fashion culture and trends to create a refined identity since its very first steps. 
Inside the lab
Carlo Rivetti – Stone Island CEO – emphasizes the sake of experimenting in the company vision, which confers a genuine form of artistry. By testing out and investigating over and over again, the brand exceeds the highest clothing standards to radically redefine what sportswear means in the common understanding. Hence, it keeps finding, merging and assembling new fabrics and fibers whilst enhancing the production techniques. As a result, the projects deliver leather jackets made of lightweight Dyneema®,  PrimaLoft® insulated coats, engineered thermo-sensitive sweaters, Poly-Optima cargo pants and much more. 
Maestro of dyeing
If only one key feature had to sum up Stone Island's DNA, that would definitely be the garment dyeing process. Using cutting-edge technologies as much as old crafts methods in every single treatment, the workshops provide the means of pushing back the limits of what usual clothing lines have to offer in normal time. Drawing inspiration from its archives and in every aspect of life, collections and garments give birth to an extremely painstaking work with distinguished shades and tones. 
Recognized throughout urban culture
Although « Stoney » was terrace culture's favourite label back in the days, there is no doubt that rappers Drake and Travis Scott have integrated it on the hip-hop scene. Simply by wearing its garments, they gave the iconic compass brand a worldwide exposure whereas it was almost unknown stateside five years ago. 
Over time, without changing its philosophy, Stone Island has proven it could also make it within the street culture. Beside its major component that passion is, the brand goes far beyond fashion to reach an exclusive way of designing clothes. Admittedly, we have much to learn from those Italians…
Meanwhile, discover our whole selection of Stone island pieces HERE.