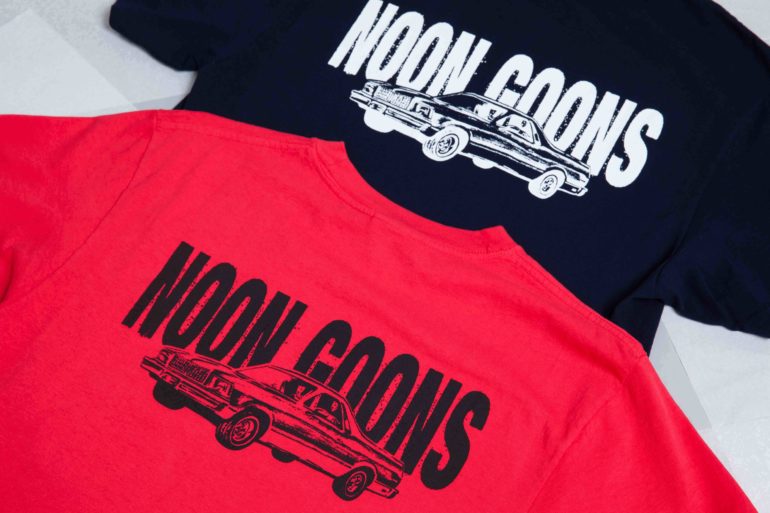 At a time when fashion industry looks oversupplied, how do you launch a brand new streetwear label with relevant perspectives without compromising the quality of your garments ?
This is the question Kurt Narmore, California native, had to answer in 2016 after leaving Warriors of Radness to found his own brand called Noon Goons.

LA-based – more precisely in North Hollywood – Narmore, helped by designer Rick Klotz, finds his inspiration quite simply by biking around town and observing people hanging out to design authentic collections. Strongly influenced by SoCal lifestyle and youth culture, the sophisticated clothing line perfectly combines both surf and skate apparels with punk notes to redefine the Californian streetwear. For a few months now, the founder has been working together with Sam Jarou – creative consultant for Comme des Garçons – to give to his brand a real expertise in the fashion moves. With a mixture of colours, patterns and textures, Noon Goons takes local fashion to a whole new level and builds up a simple but distinct etho. Essentially made in the City of Angels, the capsule features branded logo tees, striped half-zip shirts, corduroy jackets and slightly oversized hoodies.
Within barely two years of existence, Narmore's child ramped up sufficiently to be spotted several times at Paris Fashion week this year, but also to be sold on the shelves of Dover Street Market retail space. Although the new kid of LA is definitely a young label, it is more likely to be delivering its goods in a very near future. Yes, you got it, don't sleep on Noon Goons, be a forerunner and grab yourself a bargain before the hype hits it for good.
Just for the record : a noon goon is the proper name to designate all people – tourists mainly – coming to the beach in the afternoon once all the surfers have already left.