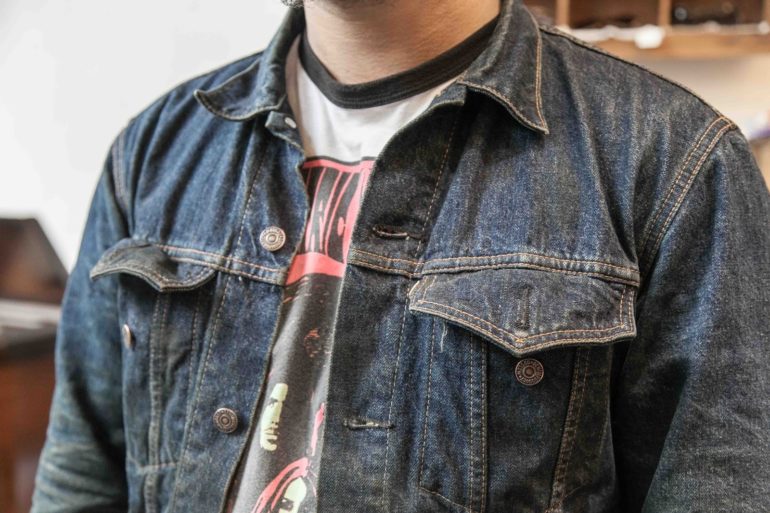 Whenever we think of a denim jacket, Levi's iconic trucker jackets always spring to mind. Let's see how three famous designers tried to adapt the garment.
The denim jacket is certainly one of the most unmissable items among timeless garments. It is synonymous with comfort, relaxation and style as well as being versatile and easy to incorporate as a layer into any outfit. Over the course of the last century, Levi's developed the most famous variations of this iconic item of clothing: type I, II and III. These were often worn by American truckers before being integrated into mass culture. Sadly, Levi's – or at least its mainstream line – is no longer the label it was in terms of value for money. From now on, we'll have to turn to the more exclusive labels to find a more acceptable level of tailoring. Visvim, RRL and Orslow have all taken up the challenge!
When Hikori Nakamura put his own spin on the type I
Levi's type I jacket appeared at the beginning of the 20th century. Coming in a standard fit, it is characterised by a unique flap chest pocket and a rear cinch. Originally, the material used for its design was sourced from Cone Mills and was a non-sanforised selvedge denim. True to its creative spirit, Visvim has reinterpreted the piece by using two lateral button tabs (the same as in type II and III) and two hidden zip pockets on each side. All of this is accomplished in a 13oz selvedge denim which has been hand-washed to give it a light blue shade, accentuated by spots of white illuminations here and there.
The original type I, in a raw or damaged denim. The model wears an item from the high-quality Levi's Vintage Clothing line.
Nakamura's design and its selvedge denim with a blue trim. Note that this version has a slimmer fit than Levi's.
The type II trucker jacket according to Doug Bihlmaier
The type II was created in the 1950s. The central button tab of its predecessor has been left out in favour of two lateral button tabs, while a second chest pocket, still with a flap, has been added. The sourcing and the fit remain unchanged. Furthermore, when RRL decided to adapt the denim jacket, its designer did so in a way that stayed true to the original version. Only the material, a selvedge denim of 14.5oz, also sourced from Cone Mills, has undergone a special treatment which gives it a particularly aged and vintage effect. The indigo has become relatively dark-blue, with earthy shades added here and there and scratches that mimic the process of natural aging.
Bihlmaier's version and his rather distinctive damaged effect. There is no need to highlight the original version here, since it is resembled in every respect.
Hichiro Nakatsu, true to the tradition of the type III
The type III trucker jacket is undoubtedly the most famous of all three variations. It was created in the 1960s, with a slim fit and two chest pockets with a pointed flap. From the 1980s right up to the present day, it has been made up of two additional side pockets. In its approach to this legendary jacket, Orslow has remained faithful to tradition: its designer came up with an initial sixties version, and in a light-blue denim which has undergone a so-called "used" treatment, which is achieved by brushing with sandpaper. As always with this design house, the material has been woven in a traditional loom for a very artisan finish, totally true to the Shokunin spirit.
Timeless and so vintage, Orslow's type III is our personal favourite.
And what about you? Which denim jacket tickles your fancy? Are you more of a trucker jacket fan, or do you swear by one of the coverall jackets loved so much by the Japanese? Whatever your thoughts on the subject, don't hesitate to share them in the comment section!
Written by Julien NICAISE-BESANGER — Sartorial curator and co-editor of the allwear Abhras magazine.
Enregistrer
Enregistrer