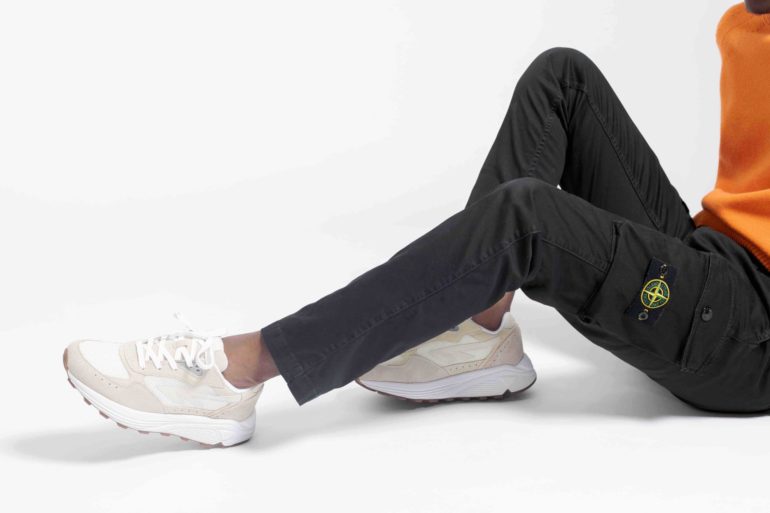 You may have never heard of it, but Hi-Tec entered the market in 1974 in the countryside of England, only 3 years after Nike was founded. First and foremost devoted to squash with its functional trainers, it turned into a global success in the nineties once the brand manufactured footgear for the Premiership Football League, but also for tennis players at Wimbledon and professional hikers in the US. By being around for ages, the British label has committed itself way enough to reach all environments, and most recently the streetwear landscape.
Performance and comfort as watchwords
In joining forces with forefront technologies and also making their own, they integrate Thinsulate™ insulation, Dri-Tec® membrane and even Vibram® sole in their production with the aim of ensuring foot stability, sustainability and comfort. Subsequently, each Hi-Tec shoe becomes a specialized product for whoever has the willing to practice a sport in the best conditions. 
HTS 74 Premium Line
We've seen a lot of bulky shoes being released lately such as the Wave Runner 700 or the Balenciaga Triple S. Reminiscing the trainers your father was wearing on a Sunday afternoon with his straight pant and oversized jacket when you were just a kid, the so-called « Daddy shoes » trend is undeniably back. Hi Tec answers to this worldwide phenomenon with those Hi-Tec Badwater and the Hi-Tec Silver Shadow RGS models from its HTS 74 Line, based on previous collections. Benefiting from all the research and development they put into work, the range adds up comfort with its Air Ball Concept (ABC) to various colour schemes. The results offer a perfect combination between sportswear trainers and contemporary sneakers. 
Mostly unknown within the new generation of streetwear lovers, Hi Tec will remain an indisputable outsider, but is more likely to be a serious alternative for those who desperately look for some affordable changes in their outfit. Play the card of authenticity and honour a true pioneer by sliding straight to our selection : here. It's worth the money.
Article written by Sidney Vertongen.